A scorpion is an arachnid belonging to the order Scorpiones. These creatures are characterized by their distinctive appearance, which includes a long, segmented body with two large pincers (pedipalps) in the front and a segmented, curved tail ending in a venomous stinger. Scorpions are popular for their predatory behavior and inhabit various regions around the world, primarily in arid and semi-arid environments.
Features of Scorpions
Here are some key features and facts about scorpions:
1. Physical Characteristics
Scorpions typically have a hard exoskeleton that is dark brown or black in color. They range in size from a few centimeters to over 20 centimeters (8 inches) in length, depending on the species.
2. Pincers
Scorpions have two pincers, or pedipalps, at the front of their body. These pincers are for grasping and immobilizing prey.
3. Venomous Stinger
A curved, venomous stinger is at the end of the scorpion's tail. They use this stinger to inject venom into their prey to immobilize or kill it and defend against predators.
4. Predatory Behavior
Scorpions are carnivorous and primarily feed on insects, spiders, and other small arthropods. They are skilled hunters and use their pincers and venomous stinger to capture and subdue prey.
5. Nocturnal
Most scorpion species are nocturnal, meaning they are most active during the night. They have specialized sensory organs that let them to navigate and locate prey in low-light conditions.
6. Solitary Creatures
Scorpions are generally solitary animals and often exhibit territorial behavior, especially during mating.
7. Reproduction
Scorpions reproduce sexually, and their mating rituals can be complex and sometimes involve courtship dances. Female scorpions give birth to live young, and the mother carries the offspring on her back until they molt and become independent.
8. Long Lifespan
Scorpions have relatively long lifespans for arachnids, often living for several years to a decade or more, depending on the species and environmental conditions.
9. Habitats
Scorpions are adaptable and can live in various habitats, including deserts, grasslands, forests, and caves. They are well-suited to arid environments and have developed strategies to conserve water.
10. Venom
While many scorpion species possess venom, only a few have venom that is potentially harmful to humans. Most scorpion stings are excruciating but not life-threatening. However, in some regions, particularly in parts of North Africa, the Middle East, and South America, there are scorpion species with venom that can be dangerous to humans, and medical attention may be necessary if stung.
Scorpions are fascinating and ancient creatures that have adapted to diverse environments over millions of years. They play essential roles in ecosystems by controlling insect populations and serving as prey for various predators.
Classification of Scorpions
There are over 2,000 known species of scorpions, each with its own unique characteristics and distribution. These scorpion species can be broadly categorized into several families, and within these families, there are numerous genera and species. Here are some of the leading families of scorpions:
1. Buthidae (Buthids):
The Buthidae family includes some of the most venomous scorpions known. Many dangerous scorpion species belong to this family. They dwell in various parts of the world, including Africa, Asia, the Middle East, and the Americas. Some well-known species in this family include:

Deathstalker Scorpion (Leiurus quinquestriatus)

Indian Red Scorpion (Hottentotta tamulus)

Arizona Bark Scorpion (Centruroides sculpturatus)
2. Scorpionidae (Scorpionids):
Scorpionidae is a diverse family that includes many scorpion species with a wide distribution. They are found in North America, South America, Asia, Africa, and the Mediterranean region. Some examples include:

Emperor Scorpion (Pandinus imperator)

Striped Bark Scorpion (Centruroides vittatus)

Forest Scorpion (Opistophthalmus spp.)
3. Vaejovidae (Vaejovids):
Vaejovids are primarily found in the Americas, with a focus on North and Central America. They are often smaller in size compared to some other scorpion families. Examples include:

Paruroctonus spp. (Baja California Bark Scorpions)

Serradigitus spp. (Dune Scorpions)

Vaejovis spp.
4. Diplocentridae (Diplocentrids):
Diplocentrids are mostly found in the Americas, particularly in Central and South America. They are popular for their slender, elongated bodies. Examples include:

Diplocentrus spp.

Heteronebo spp.
5. Luridae (Iurids):
Iurids are primarily found in the Americas, including North and South America. They are often characterized by their slender tails. Examples include:

Iurus spp.

Anuroctonus spp.
6. Bothriuridae (Bothriurids):
Bothriurids are predominantly found in South America, with some species in Central America. They often have long, slender pincers. Examples include:

Brachistosternus spp.

Bothriurus spp.
7. Caraboctonidae (Caraboctonids):
Caraboctonids are primarily found in North America, especially in the southwestern United States and Mexico. They are known for their large size. Examples include:

Caraboctonus spp.

Kochius spp.
8. Chactidae (Chactids):
Chactids are primarily found in the Americas, including North, Central, and South America. They often have well-developed pincers. Examples include:

Chactas spp.

Broteochactas spp.
It's important to note that there are numerous genera and species within each family, each with its unique characteristics and distribution. Additionally, ongoing research may lead to the discovery of new scorpion species, expanding our understanding of these arachnids' diversity. The classification and taxonomy of scorpions are continually evolving as scientists gain more knowledge about these fascinating creatures.
Keeping Scorpions Out of Your House Is Important
Harm from Scorpions
Many scorpion species possess venom that they use to immobilize or kill prey. Still, the level of danger they pose to humans varies significantly depending on the species and the individual's health. Here's a general overview of scorpion danger:
Mildly Venomous Scorpions: The majority of scorpion species are considered mildly venomous, and their stings are generally not life-threatening to healthy adults. The pain from their stings can range from mild to moderately intense, often described as similar to a bee or wasp sting. Symptoms typically include localized pain, swelling, and redness at the sting site.
Moderately Venomous Scorpions: Some scorpion species have venom that can cause more severe symptoms, especially in young children, the elderly, or individuals with crucial health conditions. These symptoms may include intense pain, muscle spasms, nausea, and vomiting. While these stings can be very uncomfortable and distressing, they are usually not fatal if prompt medical attention is sought.
Highly Venomous Scorpions: A minority of scorpion species are considered highly venomous, and their stings can be life-threatening, especially to vulnerable populations. Highly venomous scorpions are more likely to cause severe symptoms, such as respiratory distress, increased heart rate, paralysis, and potentially life-threatening complications like cardiac arrest or respiratory failure.
Examples of highly venomous scorpions include the Deathstalker Scorpion (Leiurus quinquestriatus) found in North Africa and the Middle East, and the Brazilian Wandering Spider (Phoneutria spp.), which is sometimes referred to as a "banana spider."
It's crucial to note that scorpion stings can affect individuals distinctively based on factors such as their age, overall health, and individual sensitivity to venom. The elderly, children, and people with compromised immune systems or pre-existing medical conditions are at higher risk of experiencing more severe symptoms.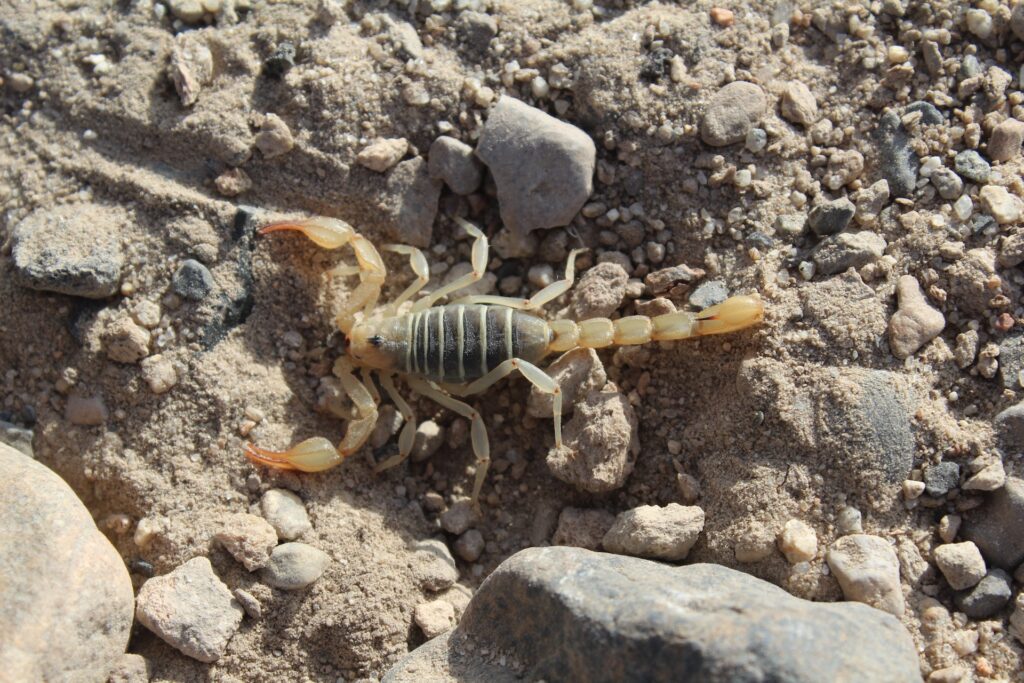 How to Keep Scorpions Out of Your House
It's advisable to take preventive measures, such as sealing entry points into your home, keeping outdoor areas clear of debris where scorpions may hide, and being cautious when reaching into areas where scorpions may be present to minimize the risk of scorpion stings.
If someone is stung by a scorpion and experiences severe symptoms, particularly difficulty breathing, severe pain, or serious allergic reaction, seek immediate medical attention. In many cases, prompt medical treatment can effectively manage scorpion envenomation and prevent serious complications.
It is essential to keep scorpions out of your house to ensure the safety and comfort of your living environment, especially if you live in an area where scorpions are common. Here are some steps you can take to prevent scorpions from entering your home:
Inspect the exterior of your home for any cracks, gaps, or openings in the walls, foundation, windows, and doors. Scorpions can enter through very small spaces, so seal them with caulk, weather-stripping, or other appropriate materials.
Ensure that all doors and windows have tight-fitting screens without tears or holes. Scorpions can crawl through damaged screens, so repair or replace them as needed.
Install door sweeps or draft stoppers on the bottoms of exterior doors. It helps seal the gap between the door and the threshold, preventing scorpions from squeezing through.
Remove piles of wood, debris, rocks, or other clutter from around your home's exterior. Scorpions often hide in these areas during the day.
Trim bushes, shrubs, and trees away from your house as scorpions can use branches or overgrown vegetation as a pathway into your home.
Keep your yard free of leaf litter, mulch, and other organic debris. Scorpions are drawn to places where they can find insects to prey on.
Light sources typically attract scorpions. Consider using less exterior lighting or switching to yellow or sodium vapor bulbs, which are less attractive to insects and, consequently, to scorpions.
Scorpions need water to survive, so fix any leaks or sources of standing water around your house. It includes repairing dripping faucets and ensuring proper drainage.
Use screens or covers to seal openings around vents, chimneys, and utility penetrations. These are potential entry points for scorpions.
Consider hiring a professional pest control service that specializes in scorpion control. They can apply treatments around your home's perimeter to create a barrier that repels scorpions.
Keep pet food and water dishes indoors, as they can attract insects and, subsequently, scorpions. Also, store firewood and compost bins away from the house.
Educate your family members, especially children, about the dangers of scorpions. Teach them to shake out shoes, clothing, and bedding before use, as scorpions may seek refuge in these items.
Place sticky glue traps near potential entry points, such as doors and windowsills. These traps can capture scorpions attempting to enter your home.
Conduct regular inspections of your home's interior to ensure there are no scorpions present. If you find one, carefully remove it using gloves and a jar, then release it outside.
Remember that scorpions are typically more active at night, so it's a good idea to be cautious when moving around your house after dark, especially in areas where scorpions are known to be present. Taking preventive measures and keeping your home well-maintained can go a long way to keep scorpions out and ensuring your house is safe.
Where Scorpions Are Found
Scorpions are typically found in regions where they can thrive in arid or semi-arid environments. They are adapted to survive in dry and often harsh conditions. While scorpion distribution can vary depending on the species, here are some common areas where they are most likely to be found:
1. Deserts
Scorpions are often associated with desert regions, and many species are well-suited to these arid environments. Desert scorpions are adapted to conserve water and are frequently encountered in sandy or rocky areas. Scorpions are common in Arizona, so effective AZ scorpion control is necessary.
2. Savannas
Scorpions are also found in savanna habitats, which are characterized by grasslands with scattered trees and shrubs. They may hide under rocks, logs, or in burrows during the day and become active at night.
3. Dry Grasslands
Some scorpion species inhabit dry grasslands and prairies. They may use vegetation and burrows as shelter during the day.
4. Caves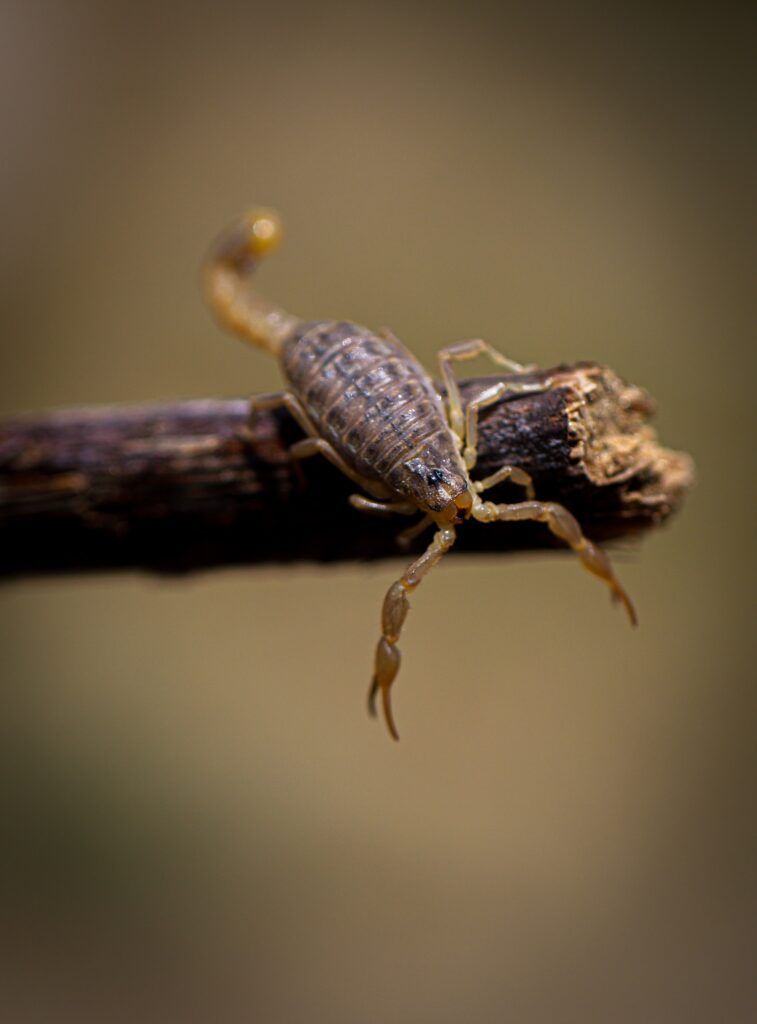 Certain scorpion species are adapted to cave environments. These cave-dwelling scorpions are often pale and have reduced pigmentation. They live in the dark recesses of caves and are specially adapted to low-light conditions.
5. Urban and Residential Areas
Scorpions can also be found in and around human settlements, especially in regions where their natural habitat overlaps with urban or suburban areas. They may seek shelter in and around homes, gardens, and other structures. These areas call for pest control to prevent the increase in scorpion population.
6. Beneath Rocks and Debris
Scorpions are known for hiding beneath rocks, logs, debris, and other objects during the day to escape the heat and reduce water loss. These hiding places provide protection from predators and shelter from extreme temperatures.
7. Tree Bark
Some tree-dwelling scorpion species can dwell under the bark of trees. They may climb trees to hunt for insects or find refuge from ground predators.
8. Moisture Sources
While scorpions can adapt to arid conditions, they still require moisture. They often reside near water sources such as rivers, streams, and oases, particularly in desert environments.
9. Burrows
Many scorpion species dig burrows in the ground, which serve as both shelter and a place to ambush prey. These burrows can vary in depth and complexity.
It's important to note that scorpion distribution can vary widely based on factors such as geography, climate, and the specific species in question. In regions where scorpions are prevalent, it's advisable to take precautions, such as wearing the proper protective gear and footwear, when working or hiking in areas where scorpions may be present. Additionally, if you live in an area with scorpions, taking measures to seal entry points into your house can help prevent them from entering indoor spaces.
Keep Scorpions Out of Your House with Proper Pest Control
Scorpions can multiply out of control, especially in Arizona where the conditions are perfect for the most dangerous kind of them. To ensure that you can protect yourself and your family from potential harm, you can contact Family First Pest Control and get the most effective pest control in AZ.